We've been producing the world's best travel, reference, and outdoor recreation maps for more than a century. You can access National Geographic maps in many mobile apps and websites.
---
Gaia GPS - Stay Safer in the Woods
Download our complete set of seamless Trails Illustrated maps and Topographic Map Guides to your mobile device with Gaia GPS, the leading outdoor navigation app. Use Gaia GPS to download maps when you don't have cell service, plan trips, and navigate out in the wild.
Join hundreds of thousands of backpackers, hunters, offroaders, mountain bikers, backcountry skiers, firefighters, guides, and other serious outdoor adventurers and professionals that use Gaia GPS for work and play.
With a Premium Membership in Gaia GPS, you get access to hundreds of Trails Illustrated titles, to use out in the field. Download the free app below:
You can also use gaiagps.com to browse hiking trips, or plan hiking trips and print topo maps for backup.
---
Avenza Maps
Our outdoor recreation, travel, reference, and historical maps are available through the Avenza Maps store to download and track your location within the Avenza Maps mobile app.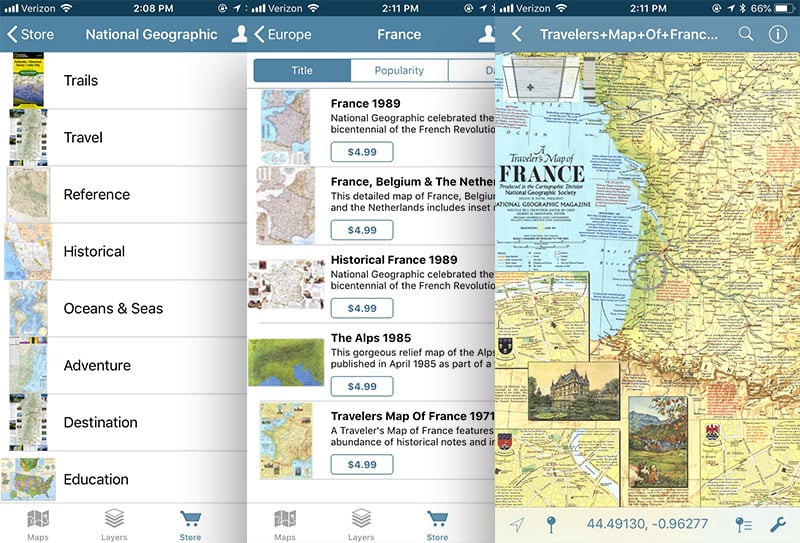 Each map is purchased separately, letting you build your personal NatGeo map collection on your mobile device.
---
Licensing
We license our digital maps to other organizations to use in their products and publications. From our Africa map printed in 1909, to our latest reference, adventure, or trail maps, National Geographic's unique, vast map archive is available to be licensed for print or digital products. We offer maps to suit any number of needs and tastes, from a historic map of New York City to showcase in a home décor catalog, to a map of the US Civil War for a textbook, or a Trails Illustrated map for natural resource management. Learn more about licensing our maps and data.