Digital versions of our award-winning printed maps are available in several mapping apps including Gaia GPS, Avenza Maps, and Topo Maps+.
Enhance your outdoor experience by using printed maps and mapping apps together. The power of new digital technology and the reliability of printed maps are the perfect combination for planning and executing your next adventure.
Printed maps are the best way to plan your trip, showing you the big picture and nearby towns and points of interest. Plus, they never run out of battery, shut down from cold, heat or water, and don't need a network.
Digital map apps show you exactly where you are on the map and help you calculate your distance, direction, and elevation gain.
Serious and smart adventurers use maps PLUS apps to get them there and back safely and efficiently.
---
Gaia GPS - Stay Safer in the Woods
Download our complete set of seamless Trails Illustrated maps and Topographic Map Guides to your mobile device with Gaia GPS, the leading outdoor navigation app. Use Gaia GPS to download maps when you don't have cell service, plan trips, and navigate out in the wild.
With Gaia GPS CarPlay integration for iOS, Trails Illustrated maps can help iPhone users get to the trailhead and navigate backcountry roads and trails in your vehicle's built-in navigation console.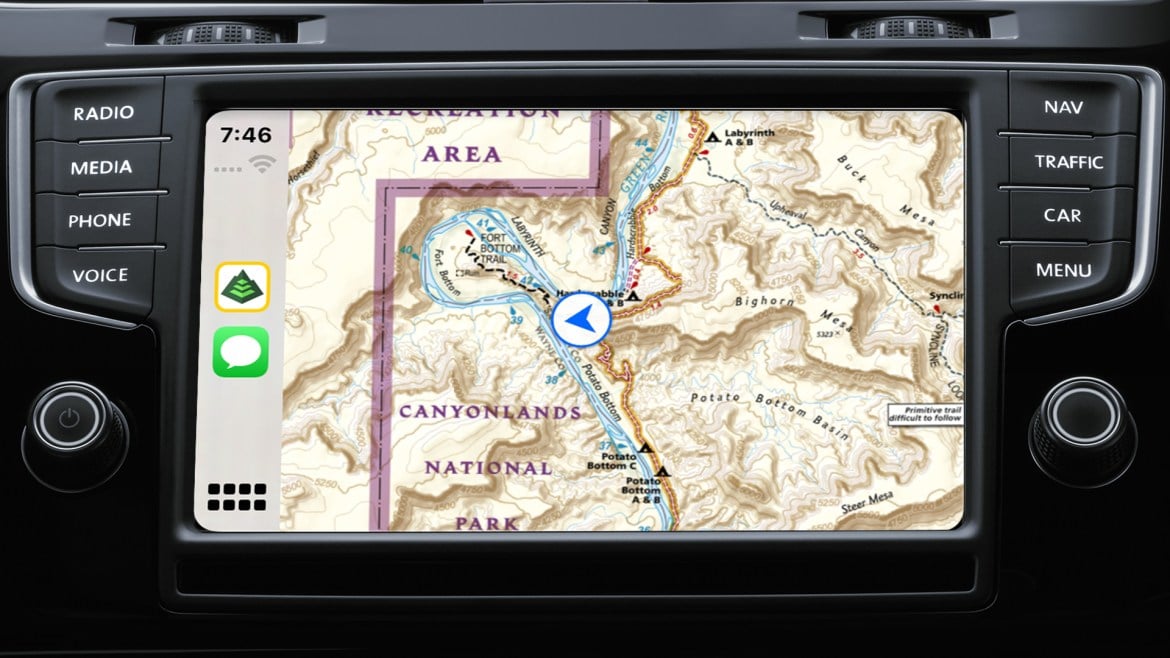 Gaia GPS on CarPlay provides turn-by-turn directions on the way to the trailhead and while you're on the backcountry 4x4 trails.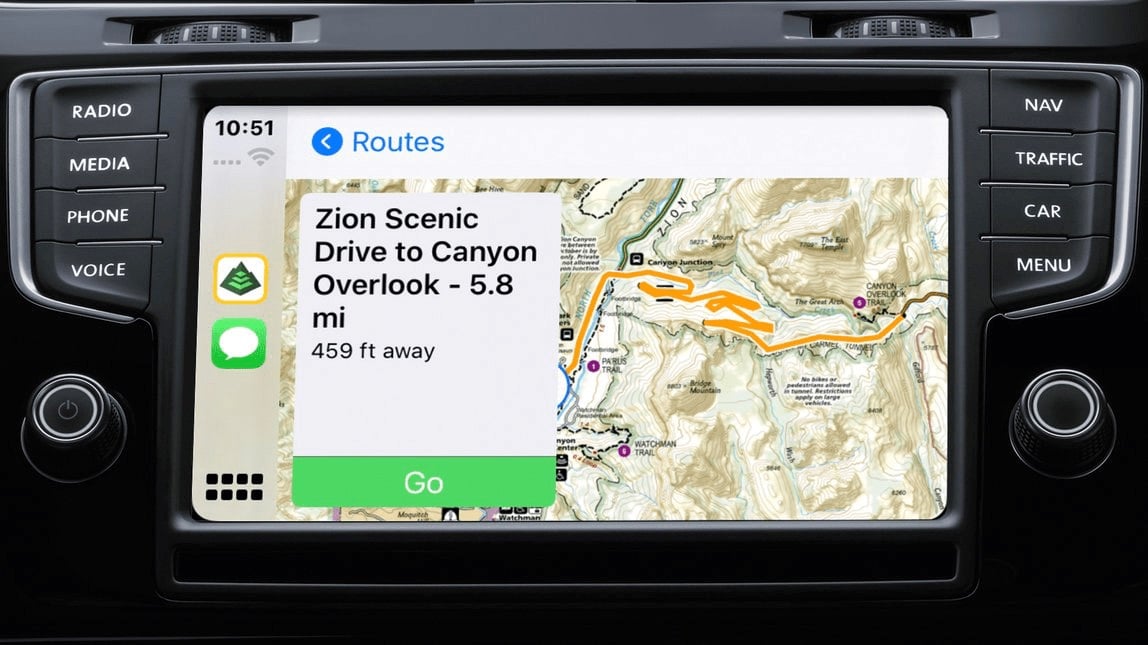 Join hundreds of thousands of backpackers, hunters, offroaders, mountain bikers, backcountry skiers, firefighters, guides, and other serious outdoor adventurers and professionals that use Gaia GPS for work and play.
With a Premium Membership in Gaia GPS, you get access to hundreds of Trails Illustrated titles, to use out in the field. Download the free app below:
You can also use gaiagps.com to browse hiking trips, or plan hiking trips and print topo maps for backup.
---
Avenza Maps
Our outdoor recreation, travel, reference, and historical maps are available through the Avenza Maps store to download and track your location within the Avenza Maps mobile app.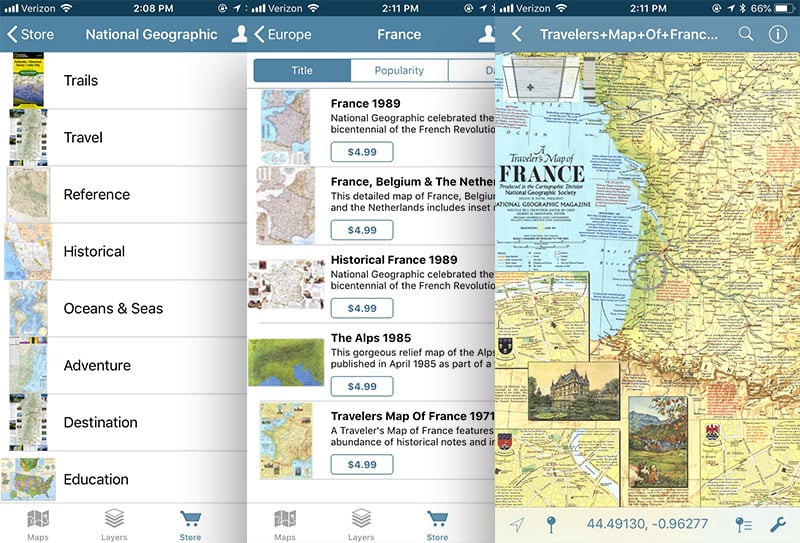 Each map is purchased separately, letting you build your personal NatGeo map collection on your mobile device.
---
Topo Maps+
By backpackers FOR backpackers, Topo Maps+ is designed to get you there and back again. With fully featured applications on both Mac and iOS you can plan your trip on one and sync to the other.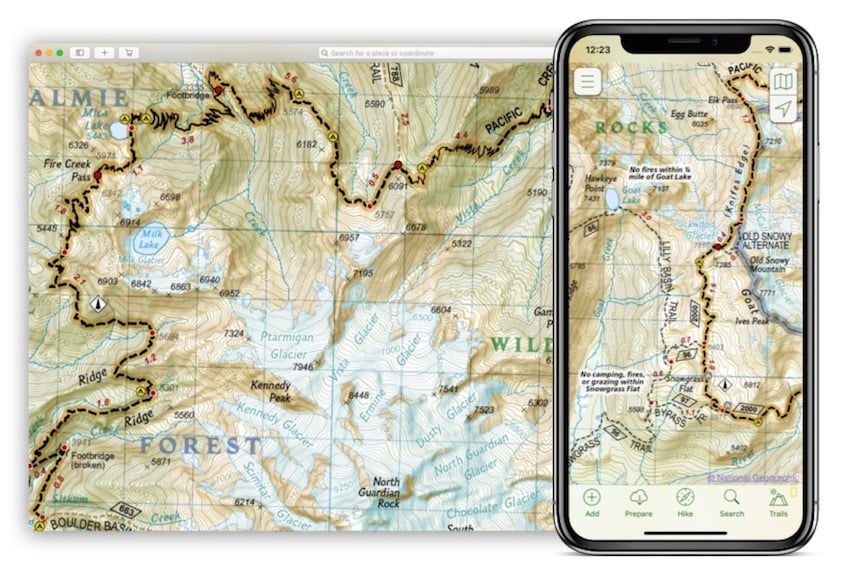 National Geographic Trails Illustrated maps can be purchased individually with no need for a subscription. The maps integrate seamlessly into Topo Maps+ giving you all the best tools for use on your favorite maps. View the distance to the next trail junction or the elevation to the next peak with a few taps on the screen. Drop waypoints, record your tracks ... you can even snap a picture to show up as waypoints on the map with the general direction you took the photo!
Download your maps for offline access for when you are far from a cell signal and still find your position and track movements with your phone's onboard GPS! Topo Maps+ uses a power optimized GPS mode which saves on battery life for long-lasting offline access to GPS tools deep in the backcountry.
---
Licensing
We license our digital maps to other organizations to use in their products and publications. From our Africa map printed in 1909, to our latest reference, adventure, or trail maps, National Geographic's unique, vast map archive is available to be licensed for print or digital products. We offer maps to suit any number of needs and tastes, from a historic map of New York City to showcase in a home décor catalog, to a map of the US Civil War for a textbook, or a Trails Illustrated map for natural resource management. Learn more about licensing our maps and data.